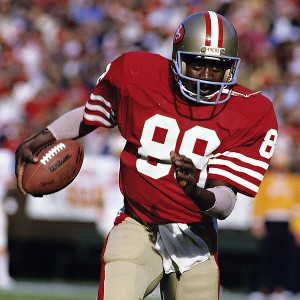 25 years ago 49ers wide receiver Freddie Solomon graciously conceded his starting position to rookie Jerry Rice. More than that, he trained Jerry Rice on the nuances of being a wide receiver in the NFL.
Mercury News reporter Mark Purdy, who was there for Jerry Rice' rookie season,
writes
:
These many years later, I still marvel that Solomon was so quietly gracious about ceding his playing time to Rice. In today's cutthroat NFL, it's hard to believe that any starting veteran receiver would do that. Solomon didn't think twice.

"He was our teammate," Solomon said. "There wasn't a question about playing time. We all knew that Bill was going to play him. So we needed him to get better for us to win — me included. The team was bigger than all of us."
In 1978, when friends were giving away 49ers tickets during a 2-14 season, I attended my first 49ers game. It was a drizzly day at Candlestick Park, and the stands were nearly empty. My one memory of that pitiful contest was how the speedy wide receiver would get open, but the quarterbacks could never get the ball in his hands. The bad St. Louis Cardinals beat the even worse 49ers.
Freddie Solomon would eventually get his chance in the limelight, catching passes from
Hall-of-Fame
quarterback Joe Montana, winning two Super Bowls, and helping to train Jerry Rice, whom many hail as the greatest wide receiver of all time.
Freddie Solomon , unlike his protégé, will not be enshrined in Canton this week. If getting into the Hall of Fame depended on one's class and character, however, Freddie Solomon would be among the first inductees.